This site describes some of the many waterfalls I have visited, most of which are located in the Great Lakes region. The Great Lakes contain roughly 20% of the world's fresh water. The lakes cover a total of 94,000 square miles (244,000 square km) and over 200,000 square miles (522,000 square km) of land drain into the lakes, including parts of Ontario, Illinois, Indiana, Michigan, Minnesota, New York, Ohio, Pennsylvania and Wisconsin. Hundreds of waterfalls can be found in the area, ranging from large heavily trafficked tourist falls, to small roadside falls, to remote wild waterfalls which wait at the end of a long hike.
I hope you enjoy the pictures, and someday get a chance to visit some of the waterfalls. This map shows the general area containing most of the waterfalls described on this site. However waterfalls know no boundaries, and neither does this site. Several of the falls listed are hundreds of miles from the Lakes.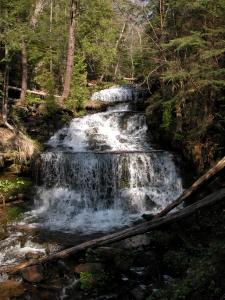 Wagner Falls in Michigan's U.P.
Sorted by Name
A
B
C
D
E
F
G
H
I
J
K
L
M
N
O
P
Q
R
S
T
U
V
W
Y