Tower Falls is in Yellowstone National Park, a few miles south of the Tower Junction. There is a parking area (and a general store). An overlook is a mere 100 yards from the parking area. There is a trail to the base of the falls. Unfortunately, when I was there the trail was partly closed due to a wash out, and the base of the falls were not reachable. Apparently the trail was still in 2006, and may be closed permanently.
In 1981 my father took two of my brothers and me to Yellowstone. Back then the trail to the base of the falls was open, and we made our way to the base of the falls. A picture my father took is included below. Back then the trail to the falls sure seemed long.
This is another waterfall that apparently loses a lot of its power as the summer progresses. I have seen pictures where the flow was much greater than the flow I witnessed.
Nearby Falls
Yellowstone is full of waterfalls. The Upper Falls and Lower Falls are the grandest, and easily seen from several viewpoints.
Many of the others are roadside falls, such as Firehole Falls, Gibbon Falls, Kepler Cascades, Lewis Falls, Moose Falls, Rustic Falls, and Undine Falls. Others, such as Mystic Falls require a hike of a few miles, and there are many more wild and remote waterfalls.
Other Websites
Photo Gallery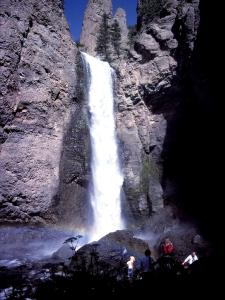 Base of Falls, 1981
---
This page has been accessed 68942 times.
Last Modified: Saturday, 26-Sep-2009 06:19:54 MDT.